The health of a population can be affected by several factors, including social factors. According to the World Health Organization (WHO), 30-55% of health outcomes are influenced by social factors. For this reason, the Department of Health Promotion and Behavioral Sciences (PKIP) Faculty of Public Health (FPH) Universitas Indonesia (UI) is holding a webinar with the theme "Social Determinants of Health: Addressing Health Inequality Issues in Indonesia". This webinar will be held on Wednesday, March 8, 2023.
"The social determinants of health also include the environment, social environment, economy, and individual behavior. FPH UI always tries to convey the latest ideas regarding the social determinants of health. The hope is that socialization regarding the social determinants of health can be an entry point so that sustainable development policies are able to implement health improvements across sectors," said Deputy Dean for Education, Research and Student Affairs, Dr. Ir. Asih Setiarini, M.Sc., in her speech.
Present as the keynote speaker, Jelsi N. Marampa, M.K.K.K., Assistant Deputy of the Coordinating Ministry for Human Development and Culture. According to Jelsi, Indonesia is a unique and heterogeneous nation. If human development opportunities are not utilized properly, disparities will very easily occur, especially health disparities. "Health interventions are needed in every phase of life that are also adjusted to the risk factors of the group," concluded Jelsi. The involvement of women in the family and government is also important to produce effective policies for development.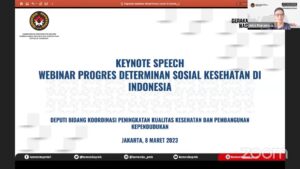 The webinar, which was moderated by Dien Anshari, Ph.D., also presented the WHO SEARO Regional Advisor, Dr. Suvajee Good as the first speaker. "Social determinants of health can greatly influence equity in health matters. It is necessary to ensure that every sector is involved to support the improvement of a country's public health status," said Dr. Suvajee. In his presentation, Dr. Suvajee also provides recommendations for actions that can be taken to maximize these social determinants of health and provides an example of implementing regulations into action from Thailand. added Dr. Suvajee Good.
Furthermore, Prof. Ella N. Hadi as a representative for the FPH UI Professor of Health Promotion explained the results of a study that had been conducted by the PKIP Department. The background of this study is health inequality, which is a challenge in many countries, including Indonesia. The purpose of the study is to document the social determinants of health in Indonesia and get an overview of the challenges and implementation of the social determinants of health in Indonesia. better governance, increasing public participation, reorienting the health sector, strengthening global governance, and increasing monitoring and accountability," said Prof. Ella. Several recommendations were also given to the government, one of which was to form a ministry/government agency that carries out continuous monitoring and evaluation of the social determinants of health.
The Director of Nutrition and Public Health of BAPPENAS, Pungkas B. Ali, Ph.D., as the first panelist, gave a positive response to the presentation of the previous study. According to him, the influence of social determinants of health is not the same in every region. "For this reason, in making health interventions one has to look again at what is a priority and really needs to be changed," said Pungkas B. Ali, Ph.D.
"The studies presented are very good, but apart from discussing the social determinants of health as things that affect health, matters related to the environment should also be a priority," said Professor of FPH UI, Prof. Budiharyanto. Several recommendations were also given to the research team, such as displaying surveillance data at the beginning of the study and carrying out 4 public health actions consisting of convene, integrate, influence, and contribute to big change.
This webinar succeeded in educating the public regarding the social determinants of health and producing recommendations that could improve the quality of policies in the health sector. With this recommendation, it is hoped that all sectors in Indonesia are willing to work together to improve the health status of the Indonesian people. (WR)