On Monday, March 13, 2023, the Faculty of Public Health (FPH) Universitas Indonesia (UI) held monitoring and evaluation activities on the utilization of service information applications/systems that had been developed within FPH UI. Monev, which was attended by all educational staff, was carried out online in the presence of the Deputy Dean for Resources, Ventures, and General Administration of FPH UI, Dr. Milla Herdayati, S.K.M., M.Si.
"Many innovations are in the form of applications that we have. Because the current situation is all paperless and online, this is the basis for us to build applications in our services. With this application, services at the faculty are better, more effective, efficient, and faster. However, we certainly need input from you through a survey whose results will be seen to improve existing applications so that they become better and develop," said Dr. Milla Herdayati in her speech.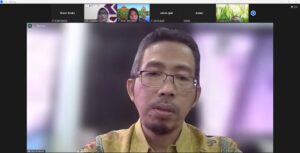 Furthermore, the Coordinator of the FPH UI Information Technology Unit, Eddy Afriansyah, S.Kom., M.Sc., explained again about the applications currently being developed and owned by FPH UI to support service activities at the faculty. It is stated that the application is divided into 2, namely external and internal applications. This external application is intended to support services to external stakeholders including students. While internal applications are applications that are used by students and lecturers to support work.
"A good application is an application that has informational value and is of use value," said the FPH UI Information Technology Unit Coordinator. It is stated that the applications owned by FPH UI include:
Permisa Application (Student Letter Request)
Ethics Review Request Application
E-complaint application
Online Certificate Printing Application
Diploma and Transcript Application
SIDU Application (Exam Documentation System)
SIPUYM Application (Student Exam Registration and Judiciary Integration System)
Self Exam Application
SISKA Application (Performance Assessment Information System)
Goods Request Application
Lecture Room Usage Monitoring Application
Disposition Application
SI-RAJA Application (Information System for Academic Research and Collaboration)
Mail Tracking Information System
MonaliZI Application (Monitoring Evaluation of Integrity Zone)
IT Monitoring and Evaluation Application
Application for Teaching Presence and Honor for Teaching (which has been replaced with SIAK-NG)
In the context of monitoring and maintaining digital transformation facilities including applications/information systems in FPH UI, FPH UI then collects feedback and testimonials on the value of the benefits of applications/information systems used by lecturers, students, and students within FPH UI. (wrk)